Check out our low fees! Natural Cycle IVF starting at $3,500! Mini Stim IVF $5,900! IVF Cycles starting at $7,900! Egg Freezing Cycle $6,650! Donor Fresh or Frozen Egg IVF Cycle $14,000!
Did you know that improving your fitness is one of the best, and only, things YOU can do to help your fertility treatment succeed?
Let Emsculpt Neo and Emsella help improve overall health and wellness AND your odds!
Visit https://www.emsculptneoweston.com/ today to schedule your free consult. Learn about strengthening your Core To Floor. Great for both men and women!
Special discounts for FIRST-IVF patients!
Welcome
WELCOME to Florida Institute for Reproductive Sciences and Technologies (FIRST). Here, among the information featured, you can find out about our state-of-the-art facility, meet our staff, learn about services and treatments available at FIRST, apply to become an egg donor, and contact us for an appointment or further information.

Why we should be your FIRST choice:
FIRST is a center of excellence for infertility treatment, offering a complete range of diagnostic and therapeutic services. At FIRST, we know that undergoing therapy for infertility can be a very stressful, trying experience so we aim to provide streamlined care in a relaxed and supportive atmosphere. Our patients receive the benefits of high technology in a personalized, compassionate setting. Most importantly, unlike many South Florida centers where patients are seen by a different doctor at every visit, or even a paraprofessional, at FIRST, you will be attended by one physician only, Dr. Minna Ruth Selub. We pride ourselves on the continuity of care we give to each and every patient.
FIRST is a fertility center where your case will not "fall through the cracks" and you will not "feel like a number." While we know that with persistence, and, at times, creativity and flexibility, almost every infertility problem can be solved, we never peddle false hope, mislead, or negligently omit information about your individual chance for success. Patients thank us over and over for being candid and offering realistic expectations for the journey that is resolving infertility. We help patients be ready for stops along the way and present all routes of treatment, including, when feasible, the most affordable options, to guide them on the way to making dreams come true.
Our Full Range of Services Include:
For all these reasons, patients worldwide continue to choose our services. Since moving to South Florida in 1991, Dr. Selub has successfully treated patients locally and throughout the United States, as well as international patients from North, Central, and South America, the Caribbean basin, Europe, the Middle East, and Africa. We hope you enjoy visiting our website. Please do contact us if you need further information. We look forward to working with you!

Mission Statement
Our practice is working together to realize a shared vision of uncompromising excellence in reproductive care.
To fulfill this mission, we are committed to:
Listening to those we are privileged to serve
Earning the trust and respect of patients, profession, and community
Exceeding your expectations
Ensuring a compassionate and professional environment
Striving for continuous improvement at all levels

Insurance:
At FIRST-IVF we believe that Assisted Reproductive Technology, a gift of science to help patients become parents, should not have to be a major financial concern. We do whatever we can to keep cost from hindering someone from going through the process of infertility treatment. That's why our fee schedules and programs, even for self-pay patients, are among the best and most affordable anywhere! We gladly accept the following insurances:
N.B.: The list of medical insurance FIRST-IVF accepts changes frequently, so if you do not see your insurance listed above feel free to contact us. Please understand that insurance coverage for infertility treatment is unique for each individual, depending on their plan. Our staff can guide you through all the steps necessary to find out the extent of your insurance coverage to help you attain your goal.
Financing:
Associations & Affiliations: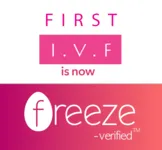 Echa un vistazo a nuestro proximo evento en Espanol para un ciclo de fertilidad GRATIS. Mas detalles en nuestra seccion de eventos.