Other Assisted Reproductive Technologies
Gamete Intrafallopian Transfer (GIFT) and Zygote Intrafallopian Transfer (ZIFT)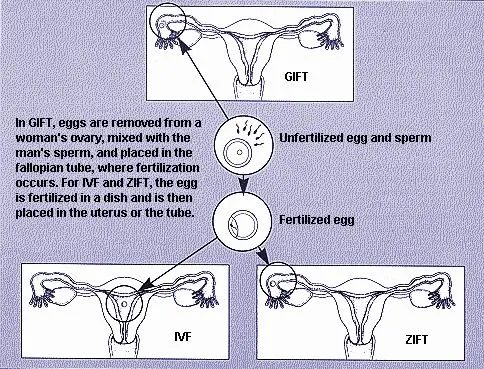 In these forms of therapy, the woman undergoes the same kind of preparation protocol as for IVF (see above).  When her eggs are mature, they are retrieved under ultrasound guidance in the operating room, while the patient is under anesthesia, in the same way as for patients undergoing IVF.  Dr. Selub performs GIFT and ZIFT at the Surgery Center of Weston, LLC and is the only physician in South Florida who has access to a facility that provides the logistical support to perform these highly successful forms of ART.
Nowadays, there are few indications for GIFT or ZIFT, but, for certain cases, these procedures are still quite advantageous and can more than double the chance for a live birth!  Some of the reasons GIFT or ZIFT may be recommended may include: unexplained infertility with no previous diagnostic laparoscopy, a patient with minimal endometriosis who has failed to conceive with other forms of treatment, difficulty with catheterization of, or inability to pass a catheter through the cervix in previous embryo transfer attempts, age related infertility with normal anatomy, a desire, or need, to enhance the chance of a single attempt at pregnancy with  frozen donor sperm to be successful, or simply having very little time to devote to fertility procedures because of work or travel logistics (living abroad, for example).
When GiFT is planned, a patient will be prepared for and given general anesthesia for the egg retrieval.  Immediately following the egg identification and collection by the embryologist, who is always stationed in the operating room for IVF, GIFT,or ZIFT, a designated number of eggs are mixed with sperm. In GIFT, the specimen containing the eggs and sperm is then placed into the fallopian tube with a thin catheter. This requires laparoscopic guidance, a surgery that involves putting a tube with a camera through the patient's umbilicus to visualize her reproductive organs, most importantly her fallopian tubes, or a single fallopian tube.  The laparoscopy is performed while the patient is still under anesthesia from the egg retrieval.  After a GIFT procedure, there is usually no embryo transfer performed.  The patient is scheduled for a pregnancy test two weeks following the procedure, as with IVF.
ZIFT is similar to GIFT; however, in ZIFT, the patient's first anesthesia ends after her egg retrieval and she is sent home to recover.   The eggs and sperm are incubated together overnight, usually after the eggs are subjected to ICSI (see the above IVF section).  In a separate, laparoscopic procedure planned for the next day, the patient returns to the operating room, where only fertilized eggs (zygotes) are transferred to the fallopian tube.
Though GIFT and ZIFT may be advantageous for certain patients only (most importantly, patients with normal, accessible fallopian tubes), these procedures have been consistently associated with higher pregnancy rates per cycle in many studies. This may be because of the more natural environment in a healthy fallopian tube compared to that of an embryo developing in media in a laboratory incubator. The tubal environment may render the embryo better able to implant in, or adhere to, the uterine lining. Dr. Selub will suggest this more invasive form of ART if she feels you may benefit.